KOBE Tetsujin 28-go (Gigantor) Monument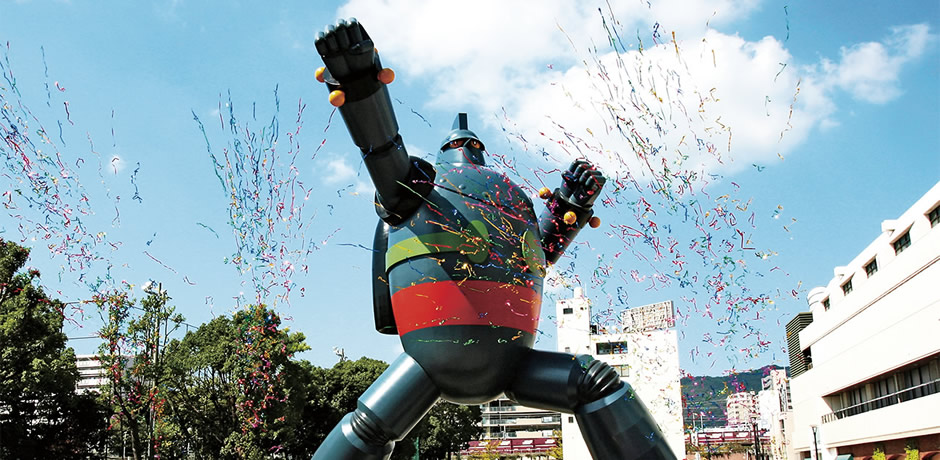 At the time of completion, we experienced a "soul-shaking" feeling.
Everything has a handmade feel. We're a "backstreet factory," and we love warmth, and the human touch.
Spring 2007
Nojima: (Taking out a carefully packed box) I'd like you to take a look at this.
Kondo: What's this? A model of Tetsujin 28-go? I didn't know you were interested in this stuff.
Nojima: Well, we have a order to create one 50 times this size...an actual size Tetsujin 28-go monument...
Kondo: Whaaat!? Are you serious?

That's how it all began.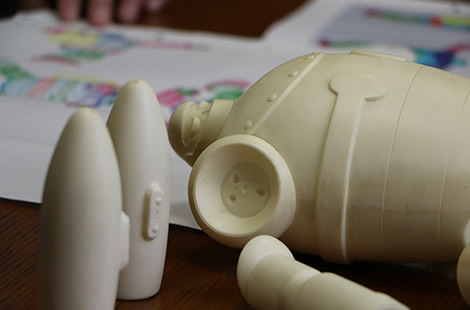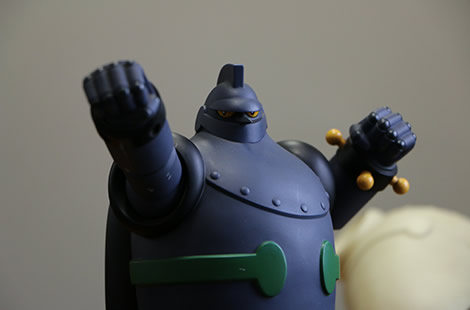 A slightly out of the ordinary ""backstreet factory.""
We're Nojima and Kondo, working at Hokkai Iron Works, Rinkai factory. Unexpectedly, both of us, so different in age, began working at the same company and have been creating a variety of pieces and products. These have included sculptor's artworks, monuments at commercial facilities, European brand's interior metal products as well as symbol monuments, signs and parade vehicles for famous theme parks in Tokyo and Osaka.

So let us tell you about our company. It's a ""backstreet factory,"" but it's no ordinary one. Our company has a 65% market share of tank lids called ""paneling,"" and produced the fuel tank for a 100% Japanese made rocket. Our company was even introduced on the famous Japanese documentary program ""Project X."" We've also produced parts for trains, both in Japan and overseas, including parts introduced in the new N700 Shinkansen. Besides that, we produce pressure vessels for plants, and can bend and assemble materials such as steel and stainless steel, using Japan's biggest-class oil hydraulic press of 300 to 6,000 tons. That's the kind of craftsman's workplace our company is. Personally (and I know this may be going overboard) I think it's better to describe our company as being like the famous Japanese drama ""Shitamachi Rocket (Backstreet Rocket)."" Anyway, we've been turning out a variety of products and monuments for over ten years. That's why I call our factory out of the ordinary.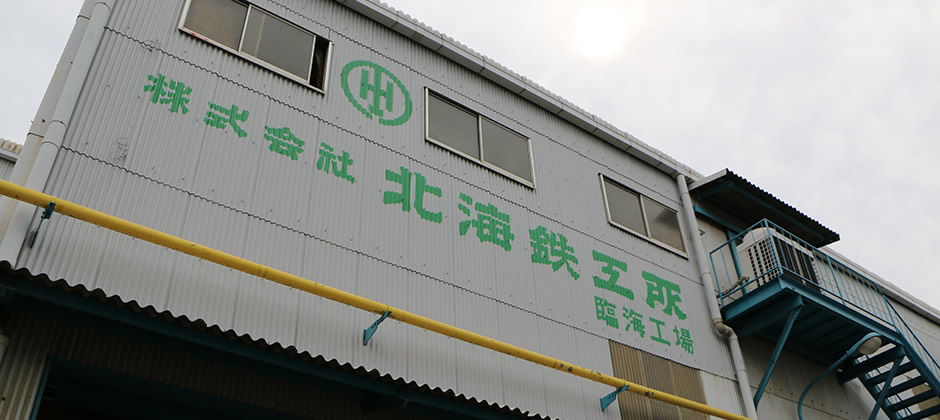 Craftsmen complete the products by hand.
One day, we received an offer to make an actual size Tetsujin 28-go monument. Neither the two of us or anyone else at the factory was sure how to go about it. At the same time, the actual size GUNDAM in Tokyo was getting lots of attention. For the GUNDAM project, major companies had become sponsors, promotion was handled by a top advertising firm, and a famous exhibition company was involved in production. A lot of money went into it.

We know we shouldn't compare the two projects, but this Tetsujin project proceeded according to a local NPO's plans. It was funded mainly by local residents and companies, and required about 200 steel plates, carefully shaped and welded at ""backstreet factories"" in Kishidawa City, then caried to the installation site for assembly. To reduce production costs, we proceeded by trial and error, and finally decided that craftsmen should make all the smaller parts by hand.
Tetsujin, completed after overcoming many obstacles.
Everything has a handmade feel. We're a ""backstreet factory,"" and we love warmth, and the human touch. This Tetsujin wasn't completed without problems, but only after a lot of obstacles which we won't mention here. So when it was finally finished, we experienced a soul-shaking feeling.

Both of us prefer participating in various plans in a background role, rather than standing on the front line. We're always working behind the scene to pass down the wonderful character and techniques of creation at a Japanese ""backstreet factory"" to the next generation. And if you come across something unique somewhere, you can think that both of us had a hand in its creation...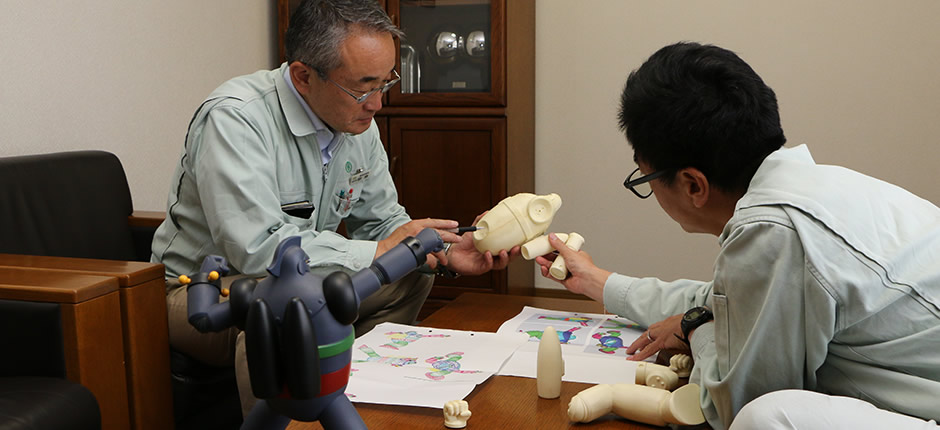 Secret story of production and installation
It took about a year to plan and design, and another year or so to produce the parts in the factory, assemble them onsite and install the monument. Througout those two years, our company was part of this Kobe Tetsujin Project, and every company member joined in, trying to offer whatever help they could to Kobe's recovery from the earthquake. We had to collect donations for the project, but it wasn't that easy. Kobe City and the project office had many discussions, and decided to proceed with making the Tetsujin, even though the funding hadn't reached the target figure. Both local residents and Kobe City felt that advertisements and posters asking for donations weren't enough to allow people to envision the finished monument. The Tetsujin needed to be built first. So they visited our company president to negotiate, and we decided to start production. At the client's request, the entire construction process would be photographed and documented, so that they could use it in promotional messages for the disaster recovery both nationally and overseas. So we were under a lot of pressure during production. In the initial calculations, we had planned for a Tetsujin who was standing straight. But after the design competition, model artist Hitoshi Hayami's concept was selected. In his design, Tetsujin is raising a fist to the sky, so we needed to calculate the structure again. The model, at 30 centimeters, was a fiftieth of the actual size. To finalize the shape, we did a 3D analysis. It was difficult to precisely duplicate the model design in the actual size. The facial expression proved especially challenging.

In the early design stages, we ran into many problems such as increases in weight, requiring more money for constructing the foundation. After long discussion, we opted to lighten the plates by reducing their thickness, and introduce a deep pile foundation method (foundation can be laid at the same time as piling) to address both technical and financial concerns. There were about 700 plates, and each one had to be pressed into the designated form and placed on the frame one by one. In addition to this pains-taking process, when the Tetsujin was nearly done we discovered that we needed to alter a subtle curve that we hadn't noticed during modeling. Craftsmen fixed the curve by hand, because machines couldn't do it. While assembling the large structure at the actual site, we used three cranes to lift the arms and body, connecting them high above the ground to the body's rear frame and the legs with bolts, carefully controlling the cranes. It was a tense moment.
1/50 model (designer: Hitoshi Hayami)

Architectural design (3D design)

Structural design (Tower-shaped steel frame structure)
""Creating new value"" as a company
We're thrilled that we could take charge of building the Kobe Tetsujin 25-go monument, and contribute to the city's disaster recovery. It resulted in creating new value as our reward. In the 1960s, following the war, the idea of public art was launched by installing art pieces in town under U.S. urban renewal policies. This was introduced to Japan as well, when new communities were built. During the bubble economy, our company produced and installed famous artworks across Japan. These pieces were artistic, and harmonized with local scenery, giving local residents a feeling of prosperity. The main purpose in erecting these monuments was to enhance the town's allure, and it was often difficult to see a concrete economic impact.

But this time, when the Kobe Tetsujin 28-go monument went up, tourists and anime fans from across Japan and even overseas began visiting Kobe Nagata. Because of that, the town's profile was raised, and some newspapers mentioned the economic effects of having this new monument as a Kobe sightseeing draw. The local shopping district began to flourish again.

These days, many places around Japan have been impacted by massive disasters. We hope to play an active part in preventing or minimizing the effects of disasters using out company's technology and techniques.
Outline of the monument
Steel frame structure
Design plate: weather-resistant steel plate ""t 3.2mm""
Height when erected: 18m (height: 15m 30cm)
Gross weight: 50t
Foundation weight: 150t
Foot size: 4m
Fist size: 1.7m in diameter