Aerial Monumen
"Principio della Legenda"
Principio della Legenda(1996)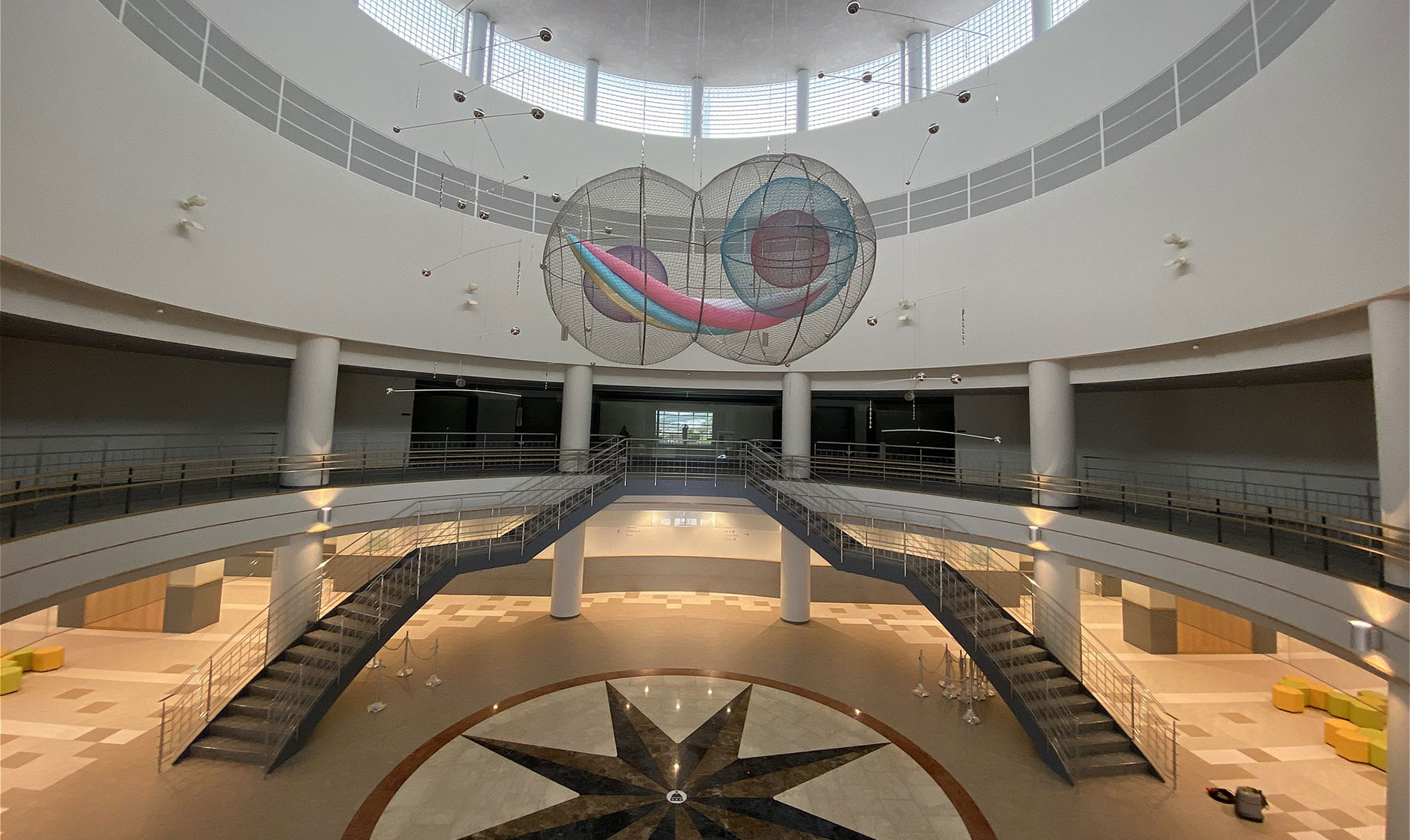 REBORN
― Monument Restoration ―
This is the reinstallation of a restored monument,
damaged by torrential rain,
at Mabi Fureai Center in Okayama Prefecture.
West Japan Heavy Rain Disaster
In July, 2018, the West Japan Heavy Rain Disaster resulted in the deaths of more than 200 people across 14 prefectures in Japan. In the Mabi district of Okayama Prefecture's Kurashiki City, eight river banks gave way, creating massive flooding. The Mabi Fureai Center was also severely damaged. The floodwaters reached a height of around 3.5 meters, and the center was closed for nearly three years until its reopening in June 2021.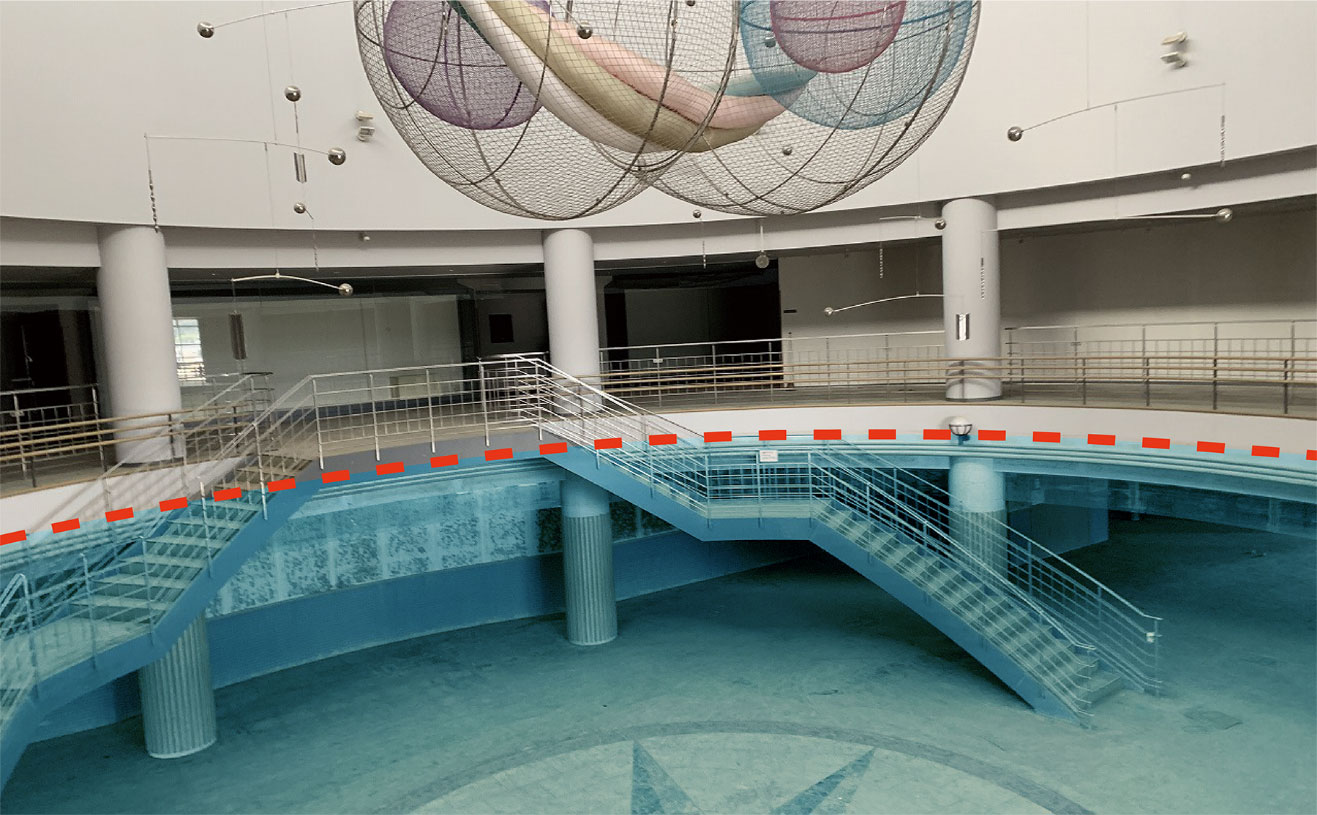 The photo shows that water reached almost to the second floor.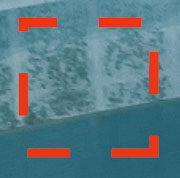 Dotted line area: Flooded area
Monument
Fortunately, the monument is a suspended structure and escaped severel damage. However, along with restoring the facility, renewal of the monument required the careful removal of over twenty years of accumulated grime.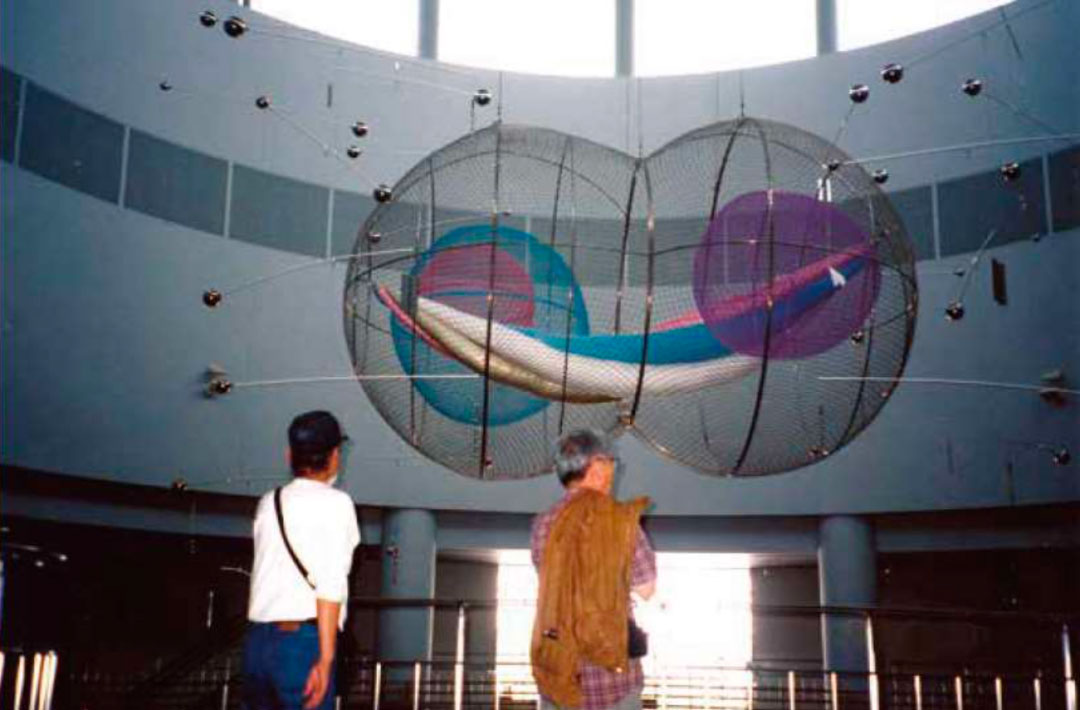 Aerial Monument "Principio della Legenda"
Creator: Shu Takahashi, created in 1996
Size: 520 x 400 x 330 cm
Materials: Stainless steel mesh and fabric ornament
REBORN 1

Some changes were made from the original 1996 drawings during the construction process, and final details of the installation became clear, requiring a re-survey. Referring to past photographs and interviews with relevant parties, it was re-designed to meet current standards.

REBORN 2

Actual Site Survey

The disaster is long passed, but there are lingering odors and dust.

The monument was removed to dismantle the ceiling.

Fabric ornaments were faded and deteriorating.

REBORN 3

Demolition

The scaffolding was set, and demolition began.

The monument was brought down.

The fabric ornament was deteriorating. In discussions with the creator, we decided to renew the fabric ornament.

REBORN 4

Preparations for Reinstallation

Checked the new fabric ornament.

Replaced the hanger with new hardware.

Installed refurbished hanging hardware.

REBORN 5

Reinstallation

Refurnishing and assembly

Assembled the monument.

Hung the monument.
REBORN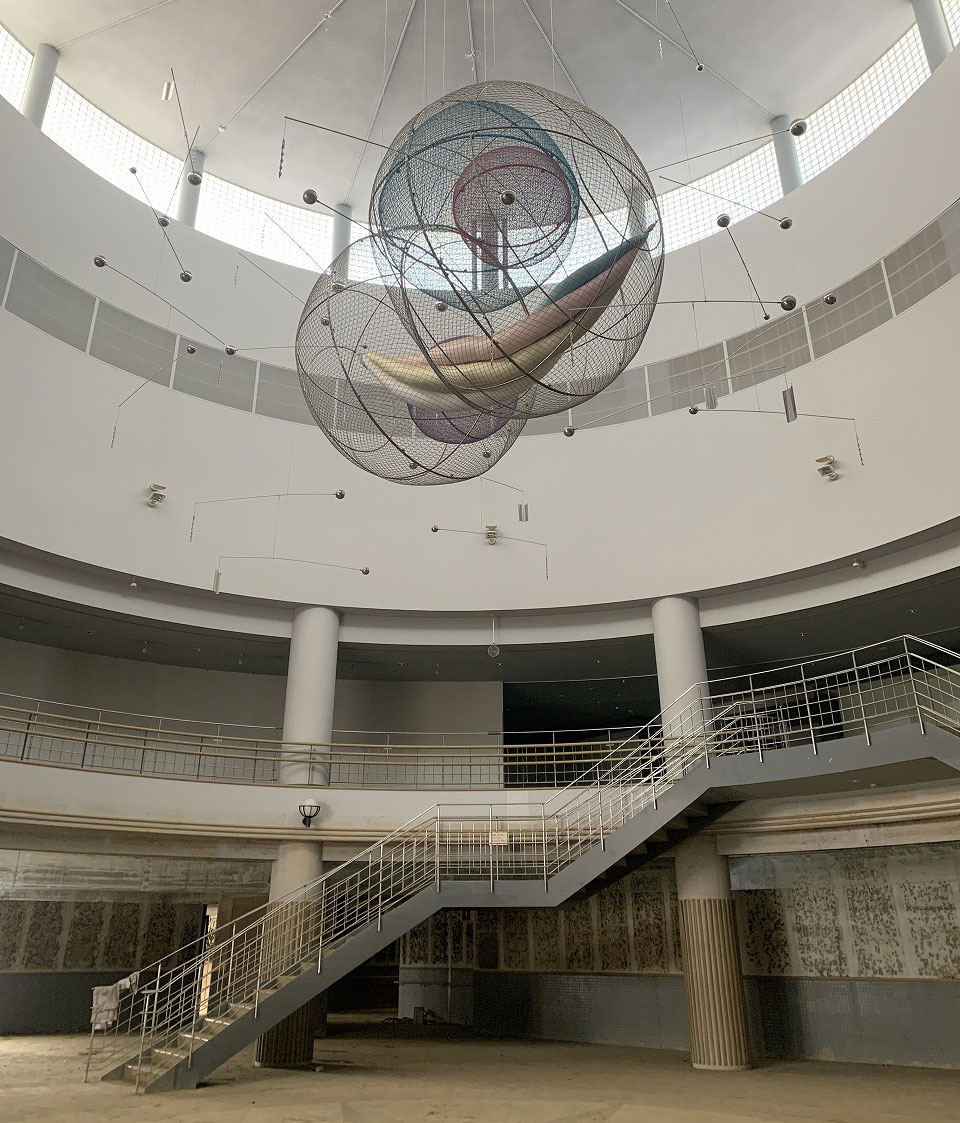 before
after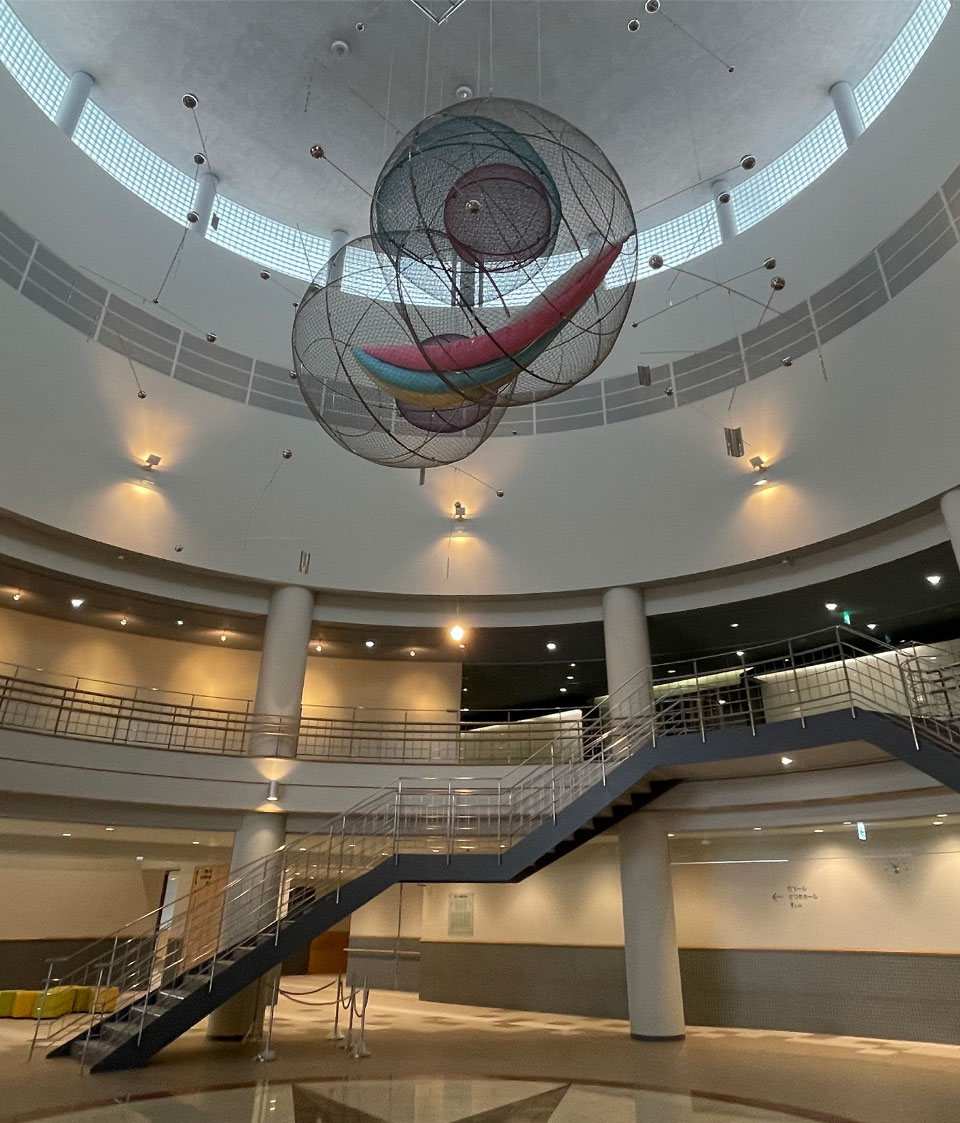 Restoration of Monument
We will continue thinking about
how the monument can serve as a positive symbol of the community.
Recently, varying disasters have occurred across the country. Many of them are unprecedented events, complicating the response. In addition, we have received many requests for relocation or reinstallation of monuments due to aging public facilities or renewal projects. It's also important to re-examine how monuments should be re-installed in accordance with modern safety standards, while taking into account the wishes of governments owners, and artists, and discussing plans with construction contractors. We will continue thinking about how monuments can serve as positive symbols for the community.
The Mabi Fureai Center in Mabi-cho, Kurashiki City, has long been a community cultural center, used by many people. With a fresh look, it will become a center of culture and art, loved by the local community for many years to come. We are deeply honored to be a part of this project.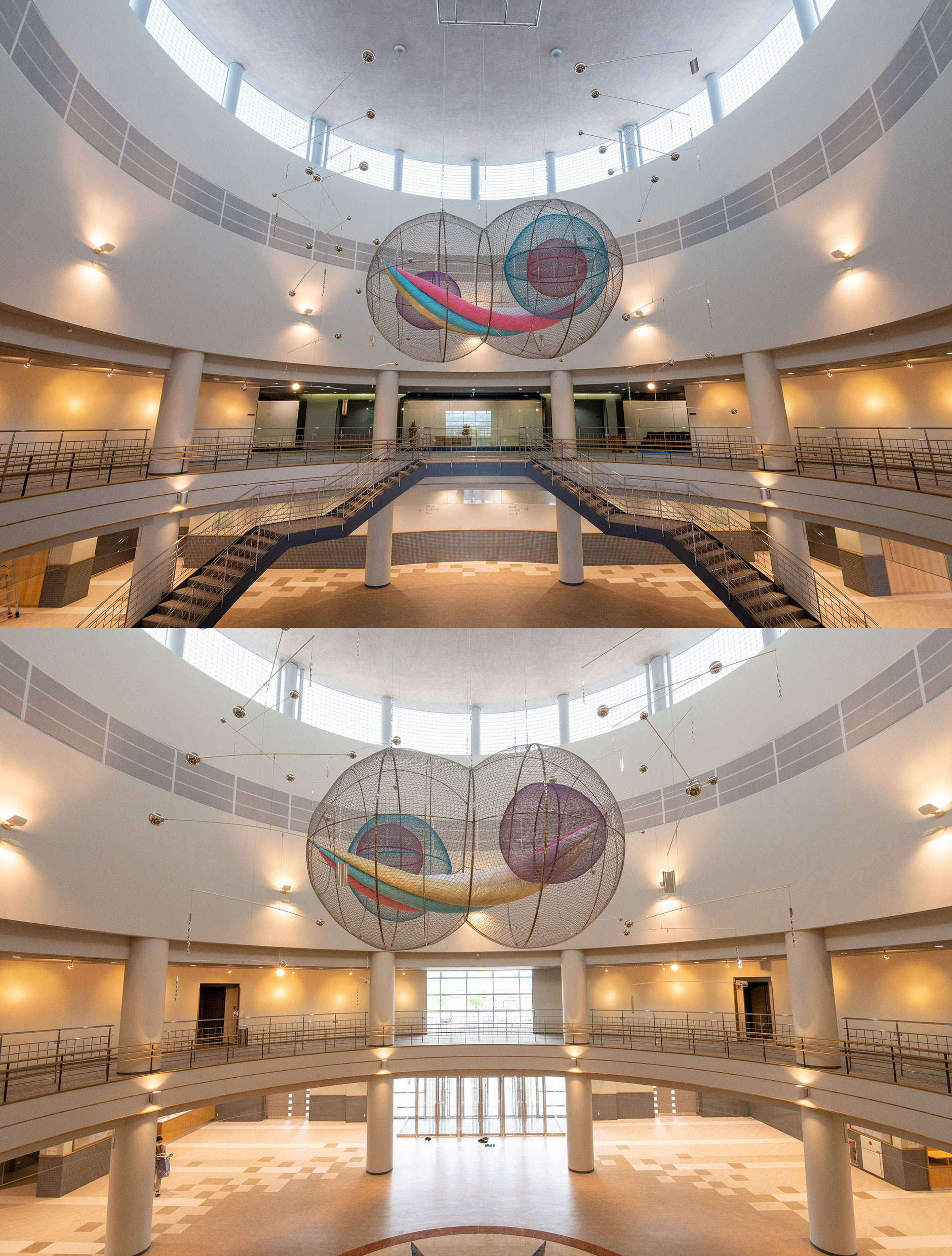 Monument Outline
Client: Kurashiki City
Design/Production/Installation: Hokkai Iron Works Co., Ltd.
Materials: Stainless steel mesh (SUS304) and fabric ornament
Size: 5200 x 4000 x 3300 mm
Creator
Shu Takahashi
(1930ー )
Person of Cultural Merit, artist, and professor emeritus at Kurashiki University of Science and the Arts
1930

Born in Shinichi-cho, Ashikina-gun (current Fukuyama City), Hiroshima Prefecture. 1961 Won the 5th Yasui Award.

1963

Invited to Italy as a scholarship student by the Italian government.

1978

Took charge of art direction for Masuo Ikeda's film "Dedicato al mare Egeo ("Dedicated to the Aegean Sea)."

1996

Became a professor at Kurashiki University of Science and the Arts

2004

Moved close to Sami Beach, Kurashiki City, after living in Rome for 41 years.

2006

Establishes the Shuo Foundation Award for Art Studies Abroad (awarded 10 times in total) to encourage young artists to study abroad.

2020

Selected as a Person of Cultural Merit

2021

Awarded the Commendatore Prize, the Order of the Star of Italy by the Italian government.
Other Awards
Minister of Education's Art Encouragement Prize (1987),
The Japan Arts Grand Prix (1988),
The Medal of Honor with Purple Ribbon (the National Cultural Award) (1994),
The Okayama Prefectural Culture Prize (2010),
The Kurashiki City Culture Prize (2012), and more.
His works and monuments are collected and installed in museums and public facilities worldwide.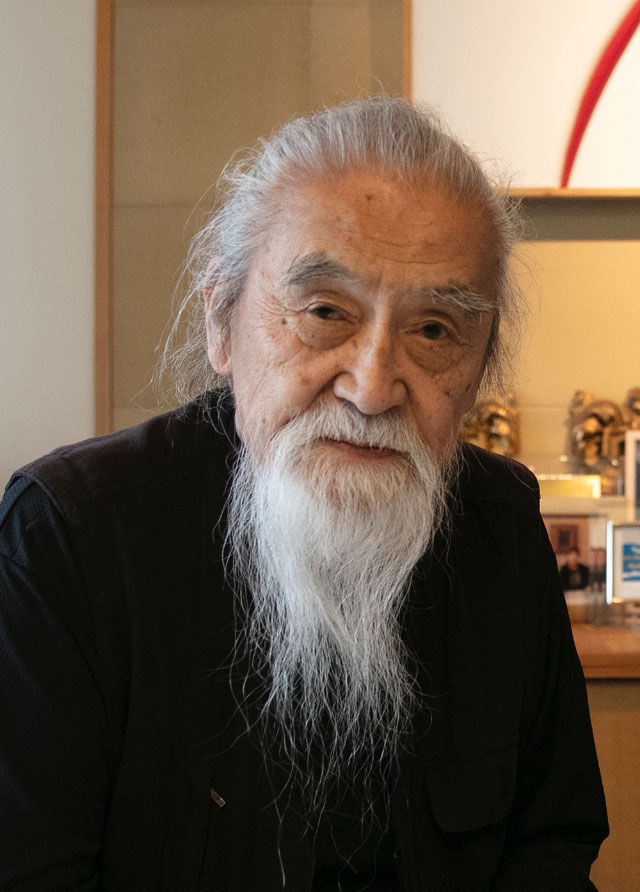 Photo courtesy of Kurashiki City
Shu art studio